Devolver Digital announces save-the-day adventure McPixel 3
McPixel 3 is coming from Sos Sosowski and Devolver Digital – but what happened to number 2? Guess that one got lost adventuring. Even their official announcement email was confused, telling us to join them in asking "What the hell happened to McPixel 2?".
The original released back in 2012 and this follow-up is described as: "Is it a bird? Is it a plane? It's falling too fast to be either of those. It's McPixel! A wanna-be hero who keeps getting mixed up in the most unbelievable situations you can imagine. Avert one disaster after another at every turn using unconventional yet entertaining methods of mayhem including – but not limited to – summoning a spider-billionaire, having a BBQ in his pants, punching a T-Rex into outer space, peeing into sports cars, and kicking Fork Parker in the balls."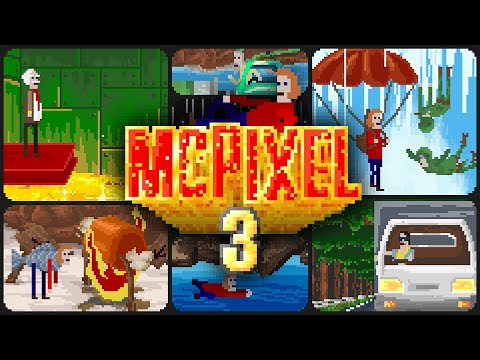 Watch video on YouTube.com
Some of what to expect:
100 mind-blowing levels
Over 900 hilarious gags
Nearly 1500 interactive items
Over 20 minigames in all imaginable genres
258,924,600 pixels
Works on your mom's computer
Steve
A water level
The first one didn't support Linux but seems this one will be.
You can wishlist / follow on Steam.