Nintendo to shutter Wii U, 3DS eShops early next year
What a tremendously sad moment this is. So sad, in fact, that I'm going to forgo my usual loquacious introduction and get right down to brass tacks. The Nintendo 3DS and Wii U eShops are being shut down, which we reported on recently. Utterly heartbreaking for me. No jokes, no wisecracking, no irony. The oft-maligned previous Nintendo generation holds a special place in my memory, guiding me from 2011 to 2017 through many a sad time and making me many a friend. There was something magical about the bonkers experimentation of those six years, and younger me found surprising comfort in it all.
I knew their online functionality would be short-lived once the Switch hit the scene, much like how the Wii and DS's beloved WiFi servers were axed soon after the Wii U's arrival, but it still stings. It represents the end of an era; and now, courtesy of Video Games Chronicle, we have an idea just how much is being – to quote Christopher Lloyd in that one obscure movie – erased from existence.
This is heavy.
The end of an era
"From March 2023 it will no longer be possible to buy games on the Wii U and 3DS online marketplaces," opens their report, which breaks down in detail all the things we'll be losing when the shutdown begins. Here's a rough timeline: later this summer, you'll be able to use neither a credit card nor an eShop funds voucher to add money to your 3DS or Wii U, which is already effectively an end to things. If a shop doesn't let you buy things, is it really a shop at all? No. It's not. Just a tantalising, salt-wound-rubbing window display.
After this, digital titles will gradually be pulled from both stores over the course of the remaining months, and by next March, the whole service will be kaput. I'd imagine attempting to boot it after this point will give you the same heart-wrenching error message that marked the downfall of Miiverse (still never forgiven Nintendo for that). Basically, if you have any remaining points or credit on either system that you forgot was there – for instance, I still have a fiver on my Wii U which I somehow haven't touched since 2017 – you need to spend it, ideally before this holiday season, as the pickings are only going to get slimmer.
The great 3DS and Wii U eShop purge: by the numbers
So, let's rip off the band-aid. Time for a thorough breakdown of what will be ejected into the digital ether this time next year. According to the report, around 2,000 games are currently available on the 3DS and Wii U eShop stores in Western regions, including:
450 digital-only Wii U games
600 digital-only 3DS games
100 Wii U games that are also available physically
300 3DS games that are also available physically
530 Virtual Console games, around 350 of which are not currently available on Nintendo Switch Online.
Of course, Virtual Console titles that have been resurrected on Switch Online are slightly lesser losses, but ones which are unlikely to surface on that platform anytime soon thanks to rights issues – Super Mario RPG remains a sticky wicket legally – would be a crying shame to lose access to.
Mario could solve Geno's maze, but the one thing he couldn't escape? Copyright law.
In terms of the Wii U digital offerings, "a number of these titles are exclusive (or at least console exclusive) to the Wii U, while others might be available on other systems. While the vast majority of these are small indie games that may not have sold in large numbers, in terms of game preservation that's still a collection of console games that will soon no longer be able to be acquired through legal means." I hope it's beginning to click how much this really, really sucks.
3DS and Wii U eShop's casualties
Some of the more notable Wii U offerings the report singles out as disappearing include:
Affordable Space Adventures
Amiibo Tap: Nintendo's Greatest Bits
Chasing Aurora
Dr Luigi
The Letter
Mini Mario & Friends: Amiibo Challenge
Pokémon Rumble U
Pushmo World (Pullblox World in PAL regions)
Shut the Box.
And on 3DS, the bloodbath is no more merciful:
Chibi-Robo: Let's Go, Photo
Dillon's Rolling Western 1 & 2
Dr Mario: Miracle Cure
Fluidity: Spin Cycle (Hydroventure: Spin Cycle in Europe)
Ketzal's Corridors (SpeedThru: Potzol's Puzzle in Europe)
Mario & Donkey Kong: Minis on the Move
Mini Mario & Friends: amiibo Challenge
Nintendo Pocket Football Club
Picross e – Picross e8
Pocket Card Jockey
Pokémon Battle Trozei (Pokémon Link Battle in Europe)
Pokémon Picross
Pushmo / Crashmo / Stretchmo (known as Pullblox / Fallblox / Fullblox in Europe)
HarmoKnight
Sakura Samurai: Art of the Sword (Hana Samurai in Europe)
Sanrio Characters Picross
Steel Empire
Tokyo Crash Mobs.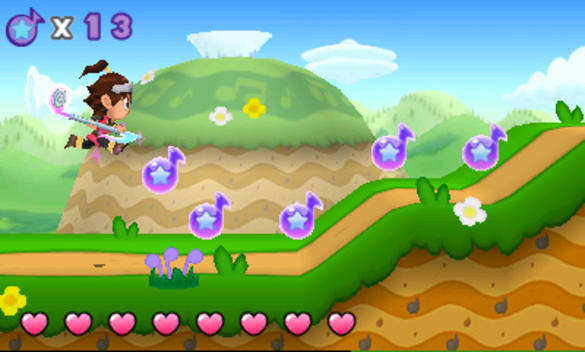 You'll think I'm having you on, but HarmoKnight being taken down is actually awful.
It's worth noting that these lists are (quite finely) cherry picked, and represent only a small fraction of the number of games that are going off the grid for good, barring any potential re-releases. For a lot of them, that's a 'never ever' – what, you wouldn't be lining up round the block for a remaster of the Chibi-Robo photo app? – so the prognosis is grim.
Closing thoughts
It truly is disheartening to see Nintendo take such drastic steps towards sunsetting the 3DS and Wii U eShops, when I'm sure they have the resources to continue maintaining them. They just don't feel like it. This smacks of them wanting to put the entire previous generation behind them ASAP, and while I just about grasp that logic, it isn't really fair, as I know numerous folks who still use their 3DS in particular.
No matter what happens, I'll always cherish the memories I hold concerning the 3DS and Wii U: for example, me and my sister being dumbfounded at the AR technology in the former, and introducing my partner to the virtues of the latter (she's now a convert). I'm gonna have to stop this here, or I'm actually going to soak my keyboard in grieving tears. And then you'll get no article. See, I bottle my emotions up just for you guys. Deep breaths.
Are you saddened by all these disappearing games as well? What's your take on this eShop situation? Let us know!
Via, Video Games Chronicle.
The post Nintendo to shutter Wii U, 3DS eShops early next year appeared first on Mega Visions.